Sir Walter DNA Certified Buffalo
Sir Grange
Eureka Premium VG Kikuyu
Nullarbor Couch
TifTuf
Sir Walter DNA Certified Buffalo
Sir Walter DNA
Certified Buffalo
Perfect for residential yards with kids or dogs, or if you are looking for a low maintenance feature lawn around garden beds, courtyards or pools. Performs well in full sun or lightly shaded areas (more than 3 hours of light) with minimal water requirements once established. This is our #1 seller for home lawn areas.
Sir Grange
Eureka Premium VG Kikuyu
Nullarbor Couch
TifTuf
A new lawn delivered to your door
Order online or call our team today to arrange a direct to site delivery! To ensure your new lawn arrives as farm fresh as possible, we have invested in our own inhouse fleet of delivery trucks. Turf is delivered onboard our temperature controlled refrigerated trailers… that's all part of our Coolabah Great Grass Guarantee. Trucks travel with tailgate forklifts to enable our drivers, where possible to place the turf as close as they can to your prepared site to minimise time required to install it once it arrives.
3 easy steps to instant beauty​
Find the right turf for you. Take the
Coolabah Instant Turf Quiz.
Checkout our simple measuring guide to make sure your Instant Turf order is perfect.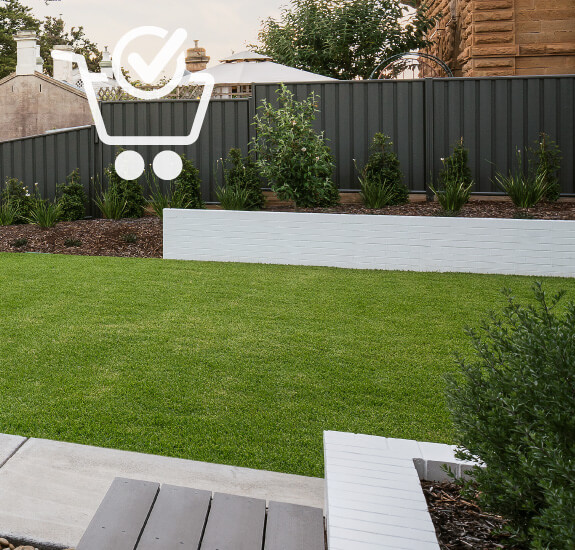 Order Instant Turf online or phone our
amazing team.
How to Have The
Best Looking Lawn
in The Street
With Coolabah Turf you get lawn care advice for life. Check out our Seasonal Lawn Care page for great tips on how to keep your lawn looking fabulous.
Your Comprehensive Instant Turf and Grass Suppliers
Are you looking to transform your outdoor space into a versatile haven of lush green grass? Then you've come to the right place. With our instant turf supplier, you will be enjoying a luscious lawn and all of the benefits that come with it instantly. Easy to install and maintain, our roll-on turf is slab-cut perfect for your yard.
Our slab-cut turf is an excellent option for your yard. Slab-cut instant turf offers the advantages of faster and more convenient installation, eliminating the need for top-dressing upon installation. It's also more user-friendly and lighter in weight compared to traditional turf rolls. In addition, turf slabs require less water during establishment and excel at preventing future weed issues.
Just think of the fun that'll be had on your new lawn. From playing with the kids to barbecues with friends, your morning workouts to afternoons in the sun, you'll love your transformed space. And with our comprehensive range of instant turf, you'll be able to find the right lawn for your needs. Whether your yard is high-traffic or low-traffic, we have you covered. Read More
All the Turf Grass You Need in One Place
A one-stop shop for your lawn needs, we have everything you need in one place. From selecting the perfect instant lawn, to ensuring it thrives for years to come, you will find everything you require in our range. Our turf varieties and aftercare range enables you to achieve that picture-perfect, soft, luscious lawn that you've always dreamed of. The epitome of a beautiful yet practical outdoor space.
Our locally grown varieties have been selected to be included in the Coolabah Turf product range because they are the most scientifically proven performing turf grass variety for each of their plant species categories for the regions in which they are grown and sold, to ensure you get the best results.
Create a stunning green carpet for show purposes with Sir Grange, a low-maintenance, robust lawn with Sir Walter DNA Certified Buffalo or anything in between. Our expert team of grass suppliers is always on hand to help you choose the best lawn for your needs.
Process of Instant Lawn Delivery and Installation
And the process couldn't be simpler; simply choose the best lawn for your needs, measure the area where it will be installed and place your order. Your turf will be delivered direct to your door by our dedicated delivery drivers, and it will be instantly ready to install. You'll be able to lay your turf and benefit from your new grass the very same day it arrives. We deliver using specialised refrigerated trucks so your turf stays at peak quality throughout its journey from us to you. Your turf must be laid the same day it arrives otherwise your warranty can be void.
Just imagine the final result as your yard is instantly transformed. Avoid wasting time and effort on sowing grass seed while hoping for growth, even coverage, and a weed-free outcome. We've done the hard work so you don't have to, providing you with an instant roll-on lawn that you can enjoy immediately.
Perfect Slab Cut of Roll-on Turf, Lawn & Grass
Transform your outdoor space with our grass turf slabs, and embrace a healthier lifestyle. Renovate your garden, create or enhance a green oasis, and open up new possibilities. Host garden parties, take your workouts outside, relish family games, chase after your pets, and more. You'll revel in plenty of fresh air and return indoors feeling bright and refreshed.
Speak to our friendly team about your space and the best turf for your needs. Our lawn experts have a wealth of knowledge and experience and will recommend a quality product, including aftercare fertiliser that suits your lifestyle. From the hustle and bustle of daily life to the peace and tranquillity that gardens provide, we have you covered. Complete our online inquiry form to request a quote or call us on 1800 055 515 to get started. Read Less
News and tips from the Coolabah Crew
Lawn
Just like we tend to hibernate inside to avoid the big winter chill, our warm season grasses; most commonly found in Victoria due
Read More »
News
The Melbourne International Flower & Garden Show returns Wednesday 29 March to Sunday 2 April at the Royal Exhibition Building & Carlton Gardens.
Read More »
News
Nutgrass, otherwise known as nutsedge, is actually one of the hardest weeds to get rid of in your lawn! Sometimes, when it feels
Read More »
Happiness starts in
your own backyard
An instant lawn landscape is the perfect excuse to enjoy the great outdoors in the privacy of your own home. Our slab cut turf is quick and easy to lay and contactless delivery is now available all year round!
Transform your own personal patch to relax, recharge, and reconnect with the ones who matter most.
To find the right lawn for your home.
Use the products the professionals use
I just love the stuff, it's super hardy, extremely low water (drought tolerant) and low maintenance. It's just so easy to maintain.
Barry Clark – Perricoota Station Moama
Eureka Premium VG kikuyu
Our service areas include: